Temp Minder™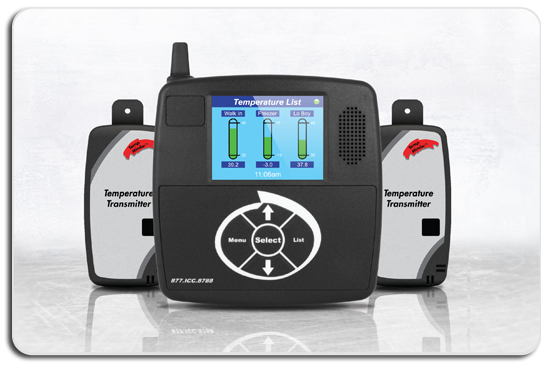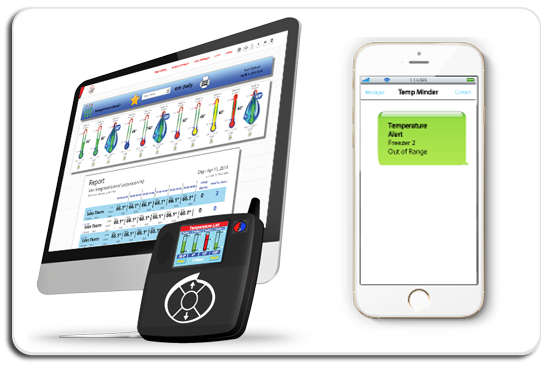 Temp Minder™ assures all products are being stored at safe temperatures, continuously monitoring cold storage and hot holding. On-Site, email & mobile text message alerts allow you to solve problems before they happen.
Low annual monitoring fees
Truly wireless installation - no drilling into appliances
Multiple options for corrective actions
New mobile apps
Recording and Reporting temperature
Temp Minder™ consists of wireless temperature probes that transmit temperature data to a gateway. The gateway collects and displays data, which is also sent to the Temp Minder Online™ website via cloud technology. When the temperatures are out of range an audible alarm will sound. Additionally, off-site temperature alerts are sent via email, text message and/or automated voice messages.
Main Benefits
24/7 Monitoring of All Refrigeration, Hot Holding And All Temperature Sensitive Materials


Gain Peace Of Mind Knowing You Will Be Alerted When Your Products Are Not at Standard Temperature.


Text, Email And On-Site Alerts


Door Open Sensors Available for Refrigeration and Holding Bins


See Truck Minder™ For Temperature Monitoring for Your Refrigerated and Reefer Trailers


Automatic Record Keeping Reports Are Available Online 24/7


Temperature reports can be viewed 24/7 online and saved for two years. A PC is not required on-site to collect data. Additional probe functions include: Door open sensors, remote probes, food simulators, humidity sensors and more are also available.
Why Choose Temp Minder™?
Most common uses for Temp Minder™ Wireless Temperature Monitoring:
Food Service Refrigeration Temperature Monitoring for Walk-Ins, Coolers, Freezers and More...


Large Facility Temperature Monitoring (Over 50 points of Refrigeration)


Hot Holding Temperature Monitoring for Quick Service and Casual Dining


Medical Refrigerator Temperature Monitoring


Farming, Produce and Plant Temperature Monitoring for Heat Sensitive Products


BBQ & Rotisserie Temperature Monitoring
Automatic 24/7 Recording Keeping with Temp Minder™
Temperature records are saved online automatically, for up to two years.

Ready to Automate your Temperature Record Keeping?
Talk to our Sales Department to get started with
Temp Minder™
Call 631.673.5100 or Email Sales@goicc.com
Request a Free Quote
Join Our Mailing List